The Grass is so much greener on the other side. Isn't it? Pictures other people post on Facebook showing how gloriously happy they are; the status updates. Everyone of your friends seem to shout to the rooftops and around the world how amazing their life is…well, can be.
---
But is it? Is it actually greener?
---
Before I get to deep into this post, let me just say that I am not green with envy at anyone at this moment. I hope not to be ever. Honestly…it's way too much energy and time wasted. However, I realize that many people are learning to get through this very thing. For the people who are struggling with this issue of jealousy, you need to hear that what you see isn't always better.
I remember growing up and being jealous of my best friends. They got cars from their parents before I did. They didn't have to pay for them, either. Their allowances were more than mine. As a teenager I couldn't think of anything worse in the world than having to ask for a ride. I had to get a job at 15 to have extra money so I could hang out at the mall, too.
So, let's chat about this greener pasture you're hung up on. Whose is it? What's it look like to you? Why is it different than your own pasture? Or for you city folk, why is it better than your own balcony?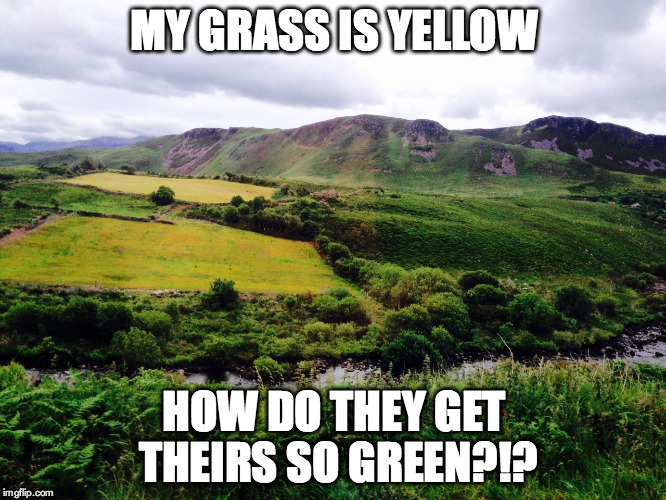 It's easy with all the social media to constantly compare your grass (or balcony) to someone else's. They post a picture of themselves at a gorgeous beach and it's a Monday. You're on your way into work and no beautiful beaches in site. Every person's post is a potential comparison starter.
How do you deal with the barrage of green?
First, check yourself. Are you making choices in your life that are in line with your goals? Or someone else's?
If it's someone's vacation you're envying: plan your own. Even if it's a stay-cation! After all their beach pictures could be stunning, but rarely does anyone pick up and go off to Aruba. They planned and treated themselves to a trip. You can do the same thing. That's a choice.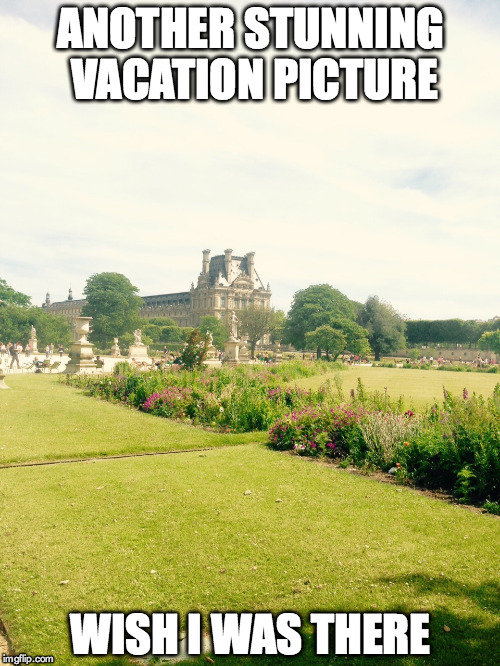 If it's weddings and babies you're envying, remind yourself what it is you really want: a partner, best friend, and a family. You know deep down you want to marry the right person for you. Not just anyone…right?
Also, remember we don't see the negative side from those exciting and very green pictures. That gorgeous beach picture isn't showing the crappy hotel in the background or the credit card bill that is inching closer to the limit. People post their best selves, or what they think others want to see. The pictures showing a fantastic night out doesn't show the evidence of the next morning. Check out Clare's blog post on "over sharing" for tips on acceptable social media behavior.
It's interesting looking back at my jealous years, and realizing how lucky I was. How all those experiences got me to where I am today. I had to work hard, and found how to value the things I had instead of wishing for what everyone else had.
Sometimes, because I am human, I find myself checking out others grass. If the hue of green seems to shine brighter I ask myself why? Is it because I want that exact grass? That exact grass means giving up parts of my current life. It means giving up my own grass. So, I remind myself that I live in California. It's in a drought. There are more things in life worth having than green grass. Succulents are stunning too!
---
Wouldn't you rather be your own original story? Knockoffs and remakes are rarely as exciting as the original.
---
Whose grass have you been envying? What is it about their grass that's drawing your attention away from your own?
Xx~LL
If you have a comment scroll down past the tags below (or up, if you're on the main page), or email us at liveclarelesley@gmail.com We LOVE your feedback!! Follow us on Facebook, Twitter, and Instagram for DAILY inspiration!